Breast Pump Magic Breastfeeding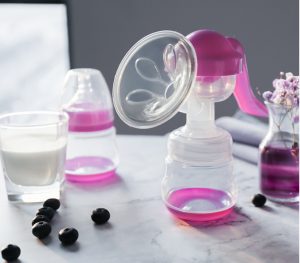 Newborns can obtain immunity from breast milk and breast milk is the best choice for baby growth, but sometimes you have no time to feed your baby directly. Don't worry! Our manual Breast Pump Magic Breastfeeding, mummy's good helper, with anti-back-flow design and the wide-mouth bottle makes it convenient to milk storage, help the feeding and prevent breast milk spilled.
Features Breast Pump Magic Breastfeeding:
– 180-degree rotation with petal-type massage cushion gives mothers a soft effect when suckling babies. – There is a 3-suction adjustment and you can choose the one you need. – Ergonomic handle design for your easy and comfortable use. – Compact and lightweight, easy to hold, install and disassemble. – An odorless PP silicone pad is a safe suction nozzle. – Simulation breast nipple, cater to your baby's hobby.  
Tips: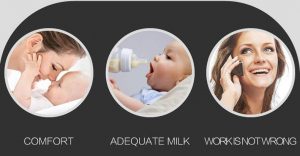 Please wash hands before install and use it. Please use boiling water to clean and disinfect before or after using it for 1 – 3 minutes. Use cotton balls soaked with hot water to heat the nipple and mammary aureole first. Be relax and sit comfortable. Gently press the breast by hand, stop using it if you feel pain. The postpartum mother should be used under the guidance of a doctor or professional nurse. 80 percent of the volume is enough, no more than 20 minutes one time. Do not mix up fresh milk with frozen milk.
Component: massage suction, three-way tube, fastening cover, pull rod piston, anti-skid handle, check valve, pacifier, and cap, bottle Bottle Capacity: 150ml Variable Temperature: -20 – 120 Deg.C / -4 – 248 Deg.F Breastfeeding is not just to provide nutrition for your bab, it is more an emotional exchange and integration.
Proper temperature, nutritious, easy to digest and contains antibodies needed to grows a variety of breast milk is essential for the baby to grow food, breastfeeding mother and the baby is an important way to establish a more intimate relationship. But because we often work or go out with friends gathering, which will affect your feed milk program. With plot master move your daily child-care plan will be easier, just breast pump breast milk sucked out and saved to the storage bottle. Within feeding baby to the family to do on it, in order to avoid baby milk powder.
The natural feeling manual massaging breast pump suction, with massage liquid silicone suction handicap breast massage breast pump week will help to stimulate the secretion of milk natural outflow, adjustable hand action sucked handicap income-put is completely initiating the baby's natural suction sucking relaxation cycle of her mother to prepare nutrient-rich natural breast milk for the baby in a comfortable and natural environment.
Breast Pump Magic Breastfeeding
SoftFit(TM) Breast shield massage while you pump.
Ergonomic Handle for maximum comfort and flexibility
Easier assembly and cleaning -fewer parts than other manual pumps,
Compatible with most standard bottles.
Shop more on >>> getpills <<<  Call us: +233500504193
How to use Breast Pump Magic Breastfeeding:
1. To help dredge the breast, open the milk as early as possible, early milking, the baby can eat colostrum in time, instead of using milk powder first. 2, suck out the milk, can clearly know the milk yield, but also determine the baby's milk consumption per meal, you can see that their baby has a large amount of milk to drink; avoid too fast to choke the baby or too little milk baby to eat enough.
#manual breast pump Ghana
#nursing breast pump best
Breast Pump Magic Breastfeeding